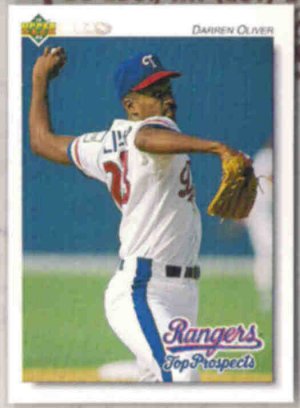 It's January, and we haven't seen baseball in a long time, so the idea of thinking at length about the contract status of a relief pitcher is oddly enticing even though I know it shouldn't be. So much so, in fact, that I decided to create a blog (or really, a baseball blog raindrop in a ginormous baseball blog ocean) to share some thoughts that I just couldn't fit into 140-character bursts. So then: let's talk about Darren Oliver!
If you're here, then you know about
this
, and I won't waste any time repeating any of it. There's been a lot of talk about whether Oliver is justified in his demands, but I'm more interested in the $3MM club option that's causing this situation in the first place, and why the Blue Jays ever wanted to include it on his contract. As far back as last offseason when Oliver and the Jays agreed to that contract, it was fairly clear that there would be two possible outcomes:
Oliver pitches poorly in 2012 and the Blue Jays choose not to exercise the option, or
Oliver pitches well in 2012 and the Blue Jays exercise the option, expecting him to take a 25% pay cut as a 42-year-old coming off of a good season.
I don't see the second option as a particularly reasonable expectation, and I can't imagine that the Alex Anthopolous – who seems like a man who takes the time to consider all possible future implications of his decisions – would have, either. So why, then, was that option ever included in the contract? What did the Blue Jays stand to gain by offering such a poor incentive for an old reliever to forego retirement for one more year?
I wouldn't say that I fully believe this was their original intention, but the option actually puts the team in a rather enviable position: it effectively makes Oliver a restricted free agent and gives the Blue Jays exclusive negotiating rights with a pitcher who was among baseball's best in 2012. As a true free agent, Oliver would be among the most desirable arms on the market not only because of his performance but also because of his unique situation – he's an elite relief pitcher who will likely only want a one-year contract at this point in his career. Consider that Jeremy Affeldt recently signed for 3 years and $18MM, and the idea of paying $5 or $6MM for one year of Oliver (while avoiding the inherent risk of long-term contracts for relievers) seems extremely palatable. If you think about it as an unlimited exclusive negotiation window instead of an option - which I admit is a bit of a stretch, but bear with me here - then the situation becomes a lot less frustrating and a lot more fun.
Would the Jays rather have Darren Oliver for $3MM in 2013? Almost certainly, but I believe that they're smart enough to have known when they signed the contract that was never really an option. Instead, by including the club option, they've given themselves an unusual chance to take their time and negotiate exclusively with a pitcher they would surely like to have in their 2013 bullpen. No competition, no bidding wars, no distractions – just the opportunity for the two parties to try to work something out before the season begins. And while Oliver undoubtedly has a huge amount of leverage in this situation, the fact that the Blue Jays are even a potential destination for him in 2013 is a direct result of the inclusion of that somewhat surprising $3MM option in his contract. Because of that, I can't agree with the idea that they're being cheated; on the contrary, I'm a fan of the opportunity they've given themselves (whether intentional or not) and hopeful that the two sides can reach some common ground before pitchers and catchers report to Dunedin next month.